Disinfecting Toilet Bowl Cleaner - Sweet Orange
Regular price

Sale price

Rs. 320.00
Our natural and powerful toilet bowl cleaner integrates the natural cleaning ingredients to provide sparkling clean finishes to your toilet bowl using vinegar, lactic acid and citric acid. The ionic silver and enzymes maximize the effectiveness of the cleaner which in return will offer cleanliness and hygiene killing 99.99% of all germs, bacteria and microbes without the use of nasty chemicals, leaving you with aromatic essential oils to pleasure your senses.
The sweet, citrus notes of sweet orange hits just the right note of mild and aromatic. Sure to become a family favourite!
No chlorine/bleach or hydrochloric acid!
INGREDIENTS
Coconut/plant-based cleansers
Mineral-based odour eliminators
Vinegar
Citric acid
Lactic acid
Sweet orange essential oil
Xanthan gum
Lipase
Protease
Amylase
Biodegradable and food-grade preservative
Silver hydrogen peroxide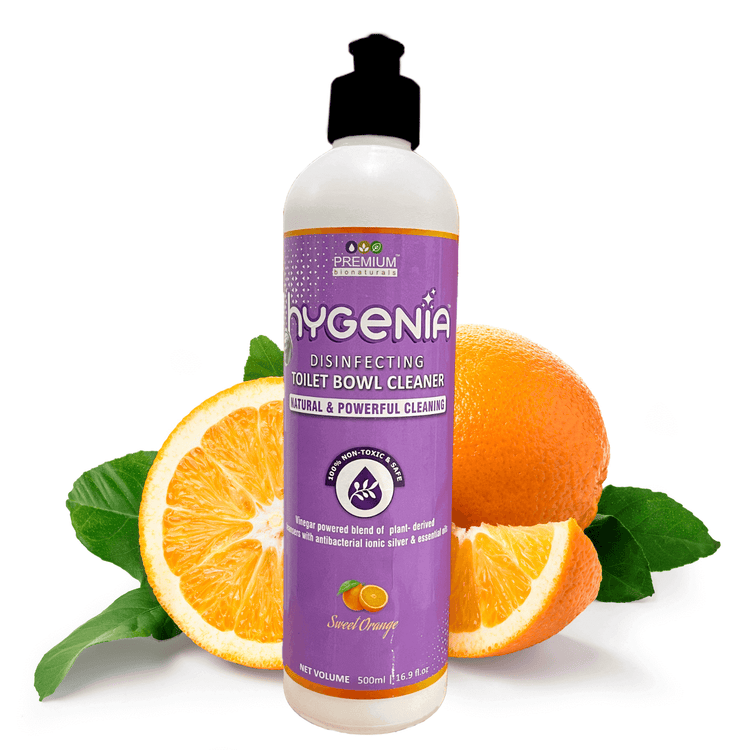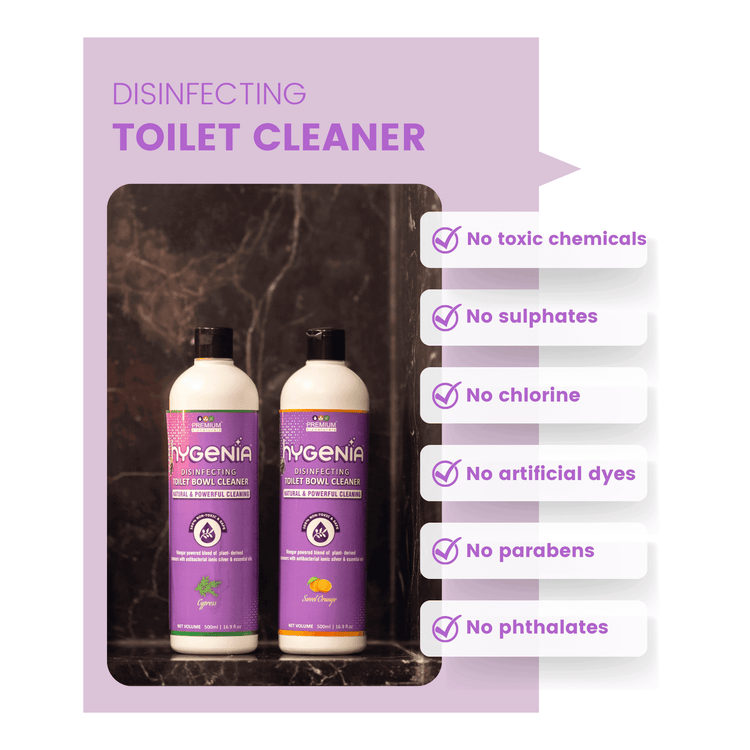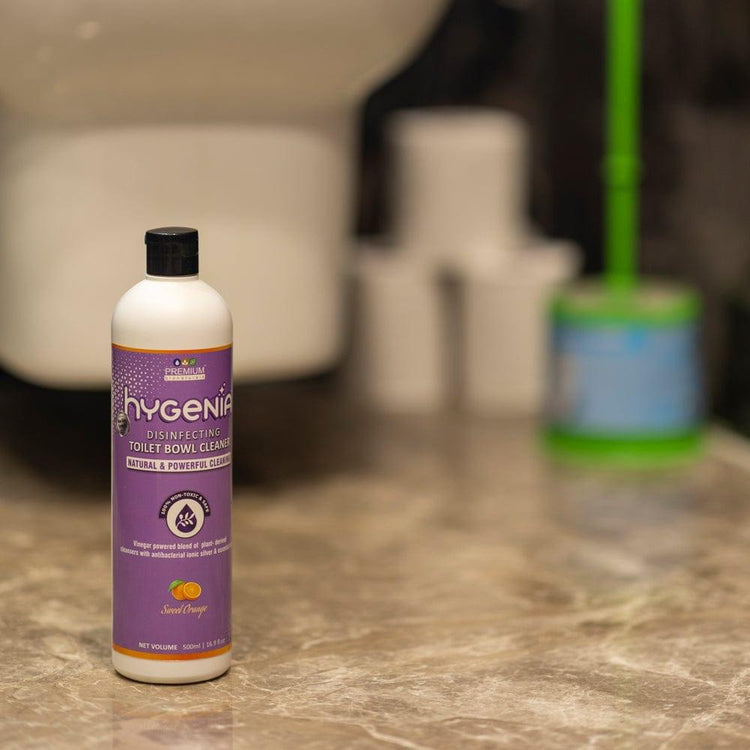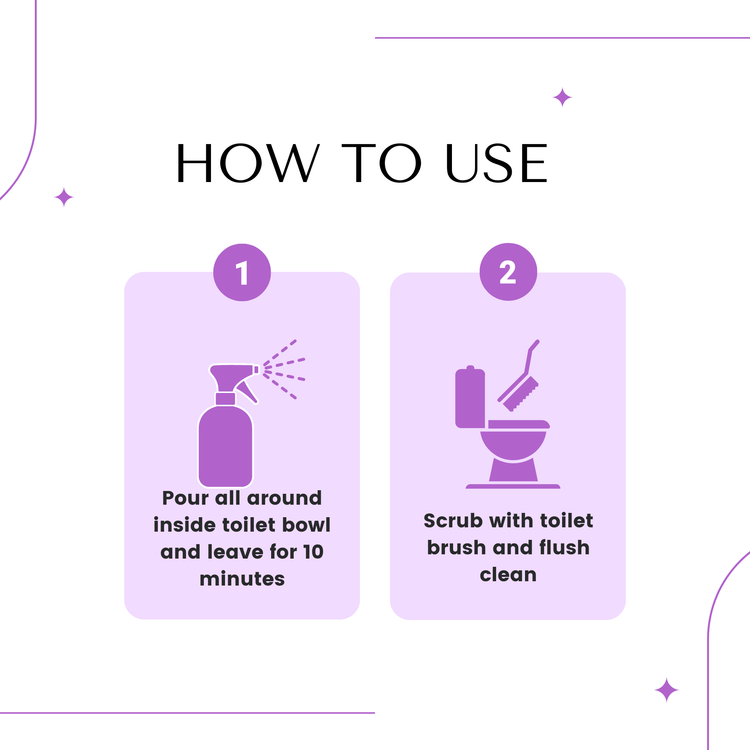 Testimonials







BEAUTIFUL SMELL AND EFFECTIVE

Such strong floral scent, works as room freshener and works well in all stains and dirty. Very easy to use.

Sanjana Chauhan
My favourite part about this one is that I can use it on all types of flooring and no damage, even marble. Leave a subtle nice fragrance in the air and shiny floors. Wish they sold bigger packs too though for bulk buyers

Sanjana Chauhan 
BEST DISHWASHING LIQUID EVER

I don't mean to rave but this dishwashing liquid is magic and god sent. It's sooo good, hard on the toughest of stains but my hands feel fine and what a beautiful fragrance combo! Half price deals have me shopping even for things I don't need. Can't wait to try other products. Will post feedback on my IG page too.

Pearl Singhania
SATISFIED AND HAPPY

No way of finding if products like these actually work but this one proved me wrong, tested them on several fruits and veggies, witnesses artificial colour and wax come off some apples and strawberries. Love that it can be used on meat as well with no after taste or smell.

Jun Notman 
IN LOVE WITH THE FRAGRANCE

Never have I ever avenged smelled something so nice in my life, mages my kitchen smell so fresh and floral. Very effective on kitchen stains and leaves everything spotless with no residue.

Sanjana Chauhan
VERY EFFECTIVE

Very effective degreaser and a great range of fragrances with this one being my fav though.

Jun Notman
LOVE LOVE LOVE

This is such a great product and at a great price! I've used it on everything fabric in my house and closet, just ordered another two bottles since it's at half price. Love the fresh laundry fragrance and my clothes will last longer now hopefully.

Pearl Singhania
AMAZING PRODUCT

This one is an absolute must for everyone especially in times like the pandemic. The smell is so breathtaking, very unique.

Sanjana Chauhan 
LOVE THE LOOK PART 2

Some times I feel I buy all Hygenia products for it's pretty packaging and aesthetic vibes. Such a smooth, non drying sanitizer with citrus notes. One of the free good ones I've used. You can tell I'ma fan from all my reviews lol.

Sanjana Chauhan
REFRESHING AND SKIN FRIENDLY

Absolutely love their range of products and the hand wash has been just as good. Love that this doesn't dry my hands out and the refreshing fragrance is cherry on top!

Jun Notman
LOVE THE LOOK

The fragrance was very lemony and strong which most people like but I like more floral scents. The hand wash in itself was pretty amazing, little goes a long way and skin feels better than dettol and others.

Sanjana Chauhan
SCINTILLATING AROMA!

I'm smitten by the combination of essential oils in this one, it's everything you don't expect from a disinfectant and more and in a good way too! Highly recommended.

Jun Notman